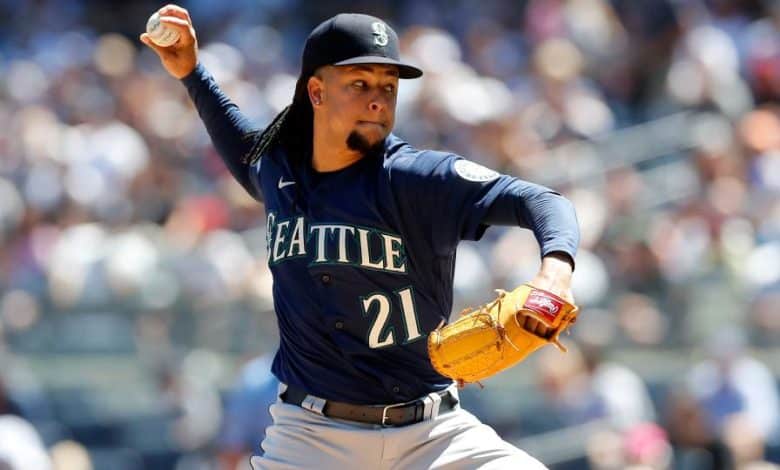 Prior to the trade deadline, the most coveted starting pitcher was undoubtedly Luis Castillo. The starter, who was then a member of the Reds, had an electrifying arsenal and was at the top of the list of just about every team that needed help within their rotation.
And since a team can never have too many starters, let's say it was jostling at the gates for its services.
In the end, it was the Mariners who got it by offering four high-quality prospects to the Reds, including Noelvi Marte, a top-10 prospect in the Majors.
Since then, Castillo has continued to be a great pitcher with his new roster, and now the Mariners secured the starter's long-term services, as he signed a contract extension of five years to stay in Seattle.
He'll get $108 million over the next five seasons, and a sixth-year option could bring the total to $133 million.
Castillo, who was to become a free agent at the end of the 2023 season, therefore signs a pact which should keep him in town until 2027 (or 2028, if the option is activated). There is a no-trade clause for the first three seasons, by the way.
And in the long run, the Mariners also have some protection should Castillo ever injure his elbow: in the event that there is damage to his ulnar lateral ligament in his right elbow and he has to sit out 130 days and more, the Mariners will be able to keep it in 2028 at $ 5 million. It's a form of protection for a possible Tommy John operation, basically.
By making sure to retain the services of Castillo in the long term, it means that the Mariners will have a rotation composed of Robbie Ray, Logan Gilbert, George Kirby and Castillo in the long term. We can really do worse as top-4.
In short, it's a good move on the part of the Mariners, who secure the long-term services of one of the best pitchers in the Majors. I have a feeling their rotation will take them to the playoffs a few times over the next few years…