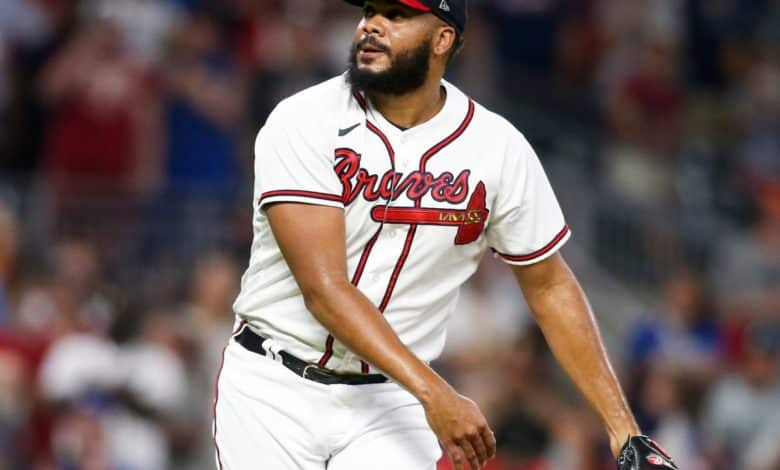 Considered one of the best relievers of his generation, Kenley Jansen could continue his career in the uniform of the San Francisco Giants.
The one who spent most of his career with the Los Angeles Dodgers would return to the West Division to terrorize hitters he knows well.
In 2022, after 12 years of finishing games in Los Angeles, Jansen made the jump to the Georgia side to help the Braves repeat their exploits from the previous season, but without success. At best, the big reliever made 41 saves for his new team.
Now that he is free as air, he would be ready to return to the west coast of the country to undertake a fourteenth season in the Majors.
The arrival of the reliever in San Francisco would make sense, because the decision-makers in place knew him well in Los Angeles. Indeed, Gabe Kapler and Farhan Zaidi rubbed shoulders with the native of Curaçao when they all worked for the same organization. A reunion of the three men is therefore possible, but at 35, we should expect a short-term agreement, because Jansen is not getting any younger.
In career, Kenley Jansen had 391 save games, mostly in a Dodgers uniform. A signing in San Francisco would further spice up the rivalry between the two teams.
At the heart of his best years, between 2016 and 2018, he participated in three consecutive All-Star Games. In 2017, he received votes for the Cy Young trophy, as well as for the title of MVP in the National.
His most productive season in terms of saved games was in 2016, when he closed the door on his opponents while confirming victory for his team 47 times.
Last year, it was Camilo Doval who was responsible for finishing the matches for the formation led by Gabe Kapler. Doval performed his task successfully on 27 occasions.
The Giants will attempt to return to the strongest of the race within their division following a somewhat disappointing 2022 season. Jansen's arrival would be welcome considering that San Francisco will once again be battling the Dodgers and Padres for a playoff berth.