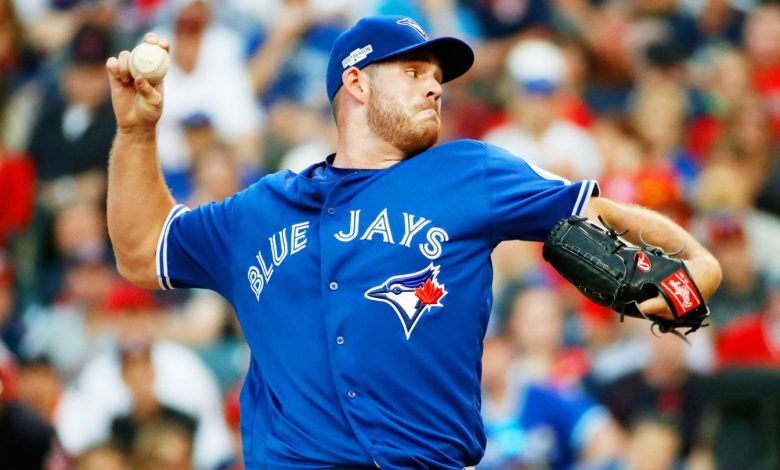 Even if the work stoppage isn't over, teams can still make minor league signings. Some players will therefore sign minor contracts (with invitation to the Major camp) in the hope of breaking through.
Joe Biagini is one of the two players having signed, this morning, such an agreement with the organization of the Blue Jays.
Of course, it was with the Blue Jays that Biagini made his Major League debut. Chosen in the Class 5 draft by Toronto, he landed in the organization for the 2016 season, where he remained for three and a half years.
He was traded to the Astros with Aaron Sanchez in 2019, where he also played in 2020. He also played briefly with the Cubs (three sets in 2021) since.
Last year, in the AAA, he was used as a starter by the Cubs' farm club. In 91.2 innings of work, he posted a 5.50 average, passed 85 guys in the mitt and walked 43.
He could bring depth to the Jays' bullpen since he doesn't have what it takes to crack the Toronto Majors rotation. Not if everyone is healthy, at least.
But he is not the only one to have signed such an agreement. As Keegan Matheson reports, Greg Bird has signed in Toronto too.
It is also within the framework of a contract of the minors that the player of first base found taker.
Bird with the Blue Jays… works for those who like the dodgy puns in life.
Bird is the one that Frank the Tank liked to nickname "the bird of the first" a few years ago on the site. An interesting Yankees prospect, he was never able to establish himself in the Majors due to injuries.
Last year, he played 112 games for the AAA club Rockies, never having a chance at the top. His .267/.362/.532 swipe line isn't bad at all and he can bring depth to an organization that lost Rowdy Tellez to first base last year.
With Vladimir Guerrero Jr. at first base, with Freddie Freeman rumored to be with the Blue Jays, and with the rotation to be expected at the DH position, Bird is better off moving to Buffalo right away since it's there, unless of a disaster, that he will start the season. But at the same time, he strikes from the left…