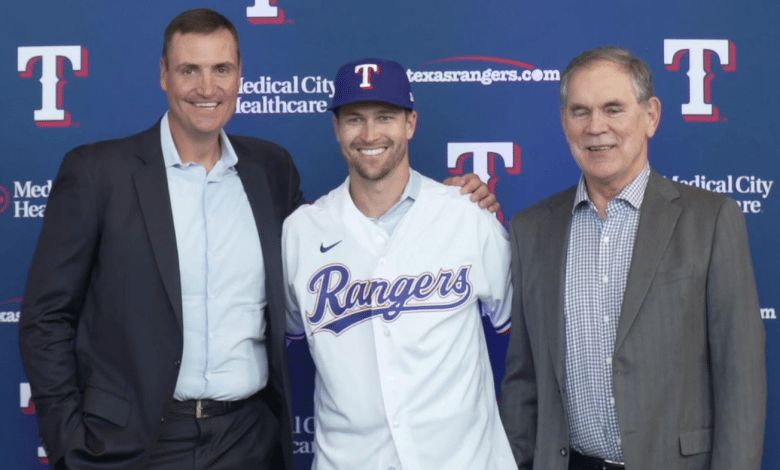 In an interview with the NJ.com mediaNew York Mets manager Buck Showalter has returned to the departure of star player Jacob deGrom.
Good old Buck was brief, but direct. He didn't split hairs to explain the situation. There's always something good with old hands. They have seen others and do not have the language in their pocket!
The 66-year-old claimed that in a recent conversation with deGrom, the latter mentioned to him that he sincerely believed in coming home and that he would like to, one day, sit down with his former manager for him. explain what really happened to justify his decision not to return to New York.
An offer he couldn't refuse
Certainly, this conversation between the manager and his former flock will not take place tomorrow. However, until then, the man who will be at the helm of the Mets for a second season has his own idea why his former pitching ace is now a member of the Texas Rangers.
According to him, the offer received from Rangers was unbeatable by anyone in the league. Recall that the 34-year-old player signed an agreement of 185 million dollars for five seasons, in addition to an option year at 37 million $. Considering the injury history of his new acquisition, it's a big risk on the part of the Texas formation.
Additionally, the most recent National League Manager of the Year winner recalled that Texas doesn't levy income tax, unlike New York State. It is sure that it enters the balance, as the other would say.
Finally, Showalter believes that basically deGrom was looking for a place to thrive and that he will perform well and be very happy at his new club. He mentioned that #48 was a good guy and was always nice to him.
To have peace
Showalter, who will be in his 22nd season as manager in 2023, pointed out that deGrom hails from rural Florida. In this sense, he wants to be left alone to simply do the thing he loves most in the world, which is throwing a baseball. Will the weight of the New York market have an impact, therefore, in the decision of the multiple recipient of the Cy Young trophy? No one knows, but the man with 3231 career games led is also a native of Florida and must have some idea of ​​what he means by that.
It will be interesting to see the new rotation of the Mets in 2023, with the arrival of Justin Verlander and the return of Max Scherzer. It will be equally interesting to follow the progress of Rangers, who have star players in Corey Seager, Marcus Semien and, of course, Jacob deGrom. Can't wait for the start of the season, because winter is already starting to get long and the return of baseball means the imminent arrival of spring.
A pitcher can always improve.
What awaits the Blue Jays in 2023?