Baseball News
In-form Josh Palacios would help Blue Jays let go of Randal Grichuk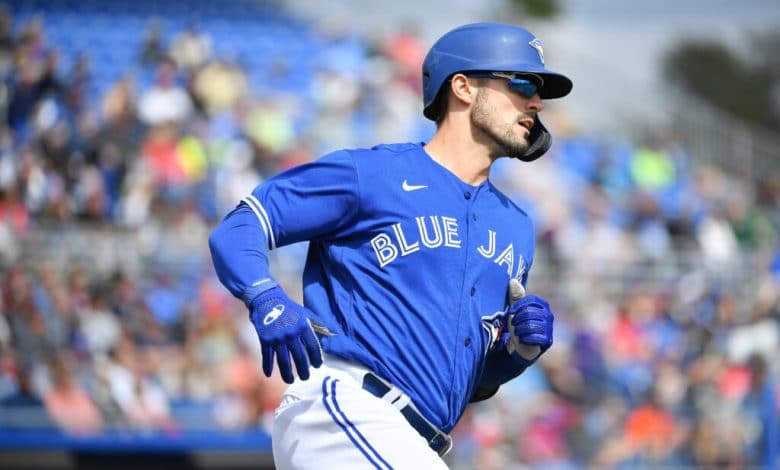 Last year, Blue Jays fans got to know Josh Palacios. The outfielder made his Majors debut on the sidelines of injuries or COVID-19 cases that hit the organization.
That said, we saw him little because the regulars returned to the game, but also because the young hopeful was injured along the way (broken hand) and missed three months of activities. He has played 32 games in 2021, including 19 in the minors and 13 in Toronto.
The year before? Zero due to the wasted season in the MiLB.
For several reasons, it is therefore to say that the young man, who is knocking on the doors of Majors, cannot be guaranteed a position.
Not enough playing time for two years.
Uncertainty of his state of health.
No room in the Blue Jays outfield.
Didn't perform well enough at the top.
Because no, in 13 games in the Majors, Palacios hasn't broken anything. It doesn't help him.
However, one thing is clear in his case: at training camp (no matter when the latter takes place), the outfielder will have his chance. Charlie Montoyo and his group will want to see what he has in his stomach during the spring games.
After all, if he were to perform well in camp and have a good start to the season, Palacios could put himself in a good position for a call-up to the Majors if injured.
But above all, in one sentence, we can sum up why the Blue Jays want to see him perform: he can play in center field and he hits from the left.
Let's imagine for a moment that George Springer is relatively healthy in the first months of the season, that Palacios is rolling well at the bottom and that a club wants to dance with the Blue Jays in the transaction market in the Randal Grichuk file. The Blue Jays could be tempted to send him elsewhere since Palacios would be the club's insurance policy in center field, as was briefly the case during an experiment in 2021.
And I remind you, once again, that Palacios strikes from the left.
On paper, he has what it takes to be a player who can help the team at low cost in a deep-field role. And you and I know that even though I like Randal Grichuk (it's not the most popular position, I agree), he earns too much for what he brings. Take it out of payroll would free up money elsewhere. Like looking for relief guys, for example?
So as much for the roster as for the youngster, a big start to the season from Josh Palacios downstairs would give the Blue Jays ammunition in many ways.