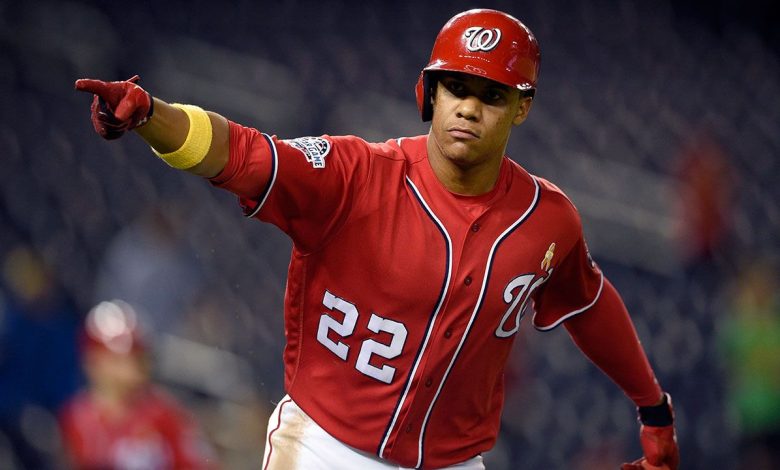 Yesterday, the news really caused a stir: Juan Soto refused a $350 million contract from the Washington Nationals.
Why? Because he thinks he deserves more than that and because he knows he will be able to get more.
Since then, the criticisms have been strong, but it must be understood that he was transparent – by revealing the offer – and that it is to his credit.
Let's take for granted that Mike Trout, who hasn't opened up about his negotiation process with the Angels, no doubt turned down an offer in the same waters before signing his current contract. Allow me to doubt that on the first day of negotiations, the Angels tabled an offer of $426.5 million…
Are the amounts we are talking about huge? Obviously. That said, it's the market of the baseball world because of income and the players (as you can see with the work stoppage) don't want to be trodden on.
Getting paid its fair value is above all a matter of principle so as not to see the bosses filling their pockets on the backs of the players.
But why does he think he is worth more? The answer is simple: because you have to split the contract in two.
Of the 13 years the Nationals offered him, 10 were years of autonomy. In order to find the true value of those years, you have to predict how much money he will earn three years from now, that is, during his arbitration years.
Projections see him earning $70 million within three years in arbitration (including $30 million in the last year), which means that the Nationals have offered him 10 years and $280 million for his 10 years of autonomy.
At $28 million per year, it's not enough and it's less than what he would earn in his last year of arbitration. It's a no in advance.
By comparison, Fernando Tatis Jr. will earn $34 million in his pre-freedom years and in his 10 years post-freedom, the huge contract he signed with the Padres secures him $306 million. That's a lot more than Soto's $280 million, isn't it?
We must therefore look beyond the simple numbers and realize that the contract offered to Soto, even if it is shorter and more lucrative than that of the shortstop of the Padres, is less interesting when we analyze it. .
Yes, establishing your value in officiating is VERY important and Soto proves it. His officiating value is higher than that of Tatis Jr. and he will win more than him afterwards. Especially with Scott Boras as his agent.
From now on, what's the plan? Follow its years of arbitration and establish its value on the autonomy market… where it will be more than coveted.
The Nationals, if they want to keep him, will really have to start negotiating with him. They lost Bryce Harper and Max Scherzer to division rivals in part to save money for Soto.
They can't afford to see him sign with the Mets, for example.
I expect to see him sign a contract for at least $450 million and it is very possible to see him hitting half a billion bidous. His goal is to stay in Washington, where he won the World Series … but the club (which is rebuilding) will have to make its way.
The file was already exciting to follow, but it has just become even more so.