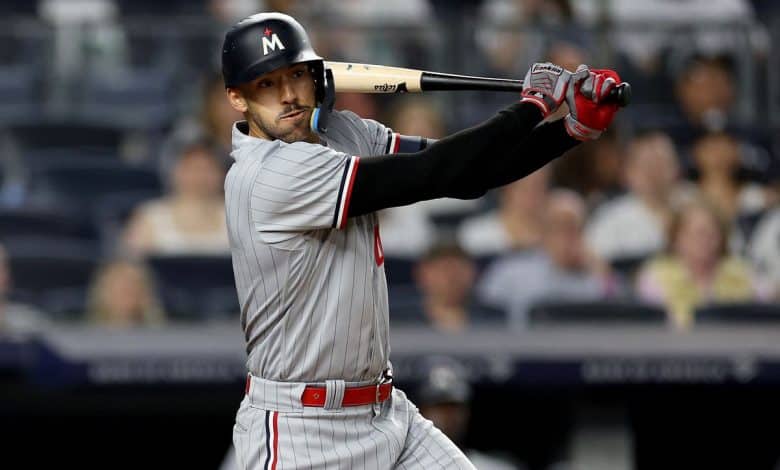 The 30 MLB teams have played more than 81 games, the All-Star Game will take place very soon, Quebec teachers have been officially on leave since last Thursday and tomorrow will be July 4 in the United States. We have well and truly entered the second half of the baseball season, all the signs are in place!
While for some players the season is going well (like Shohei Ohtani), for others things are more difficult. The mid-season can be the perfect opportunity to get back on track and redeem your year, in a way.
This is particularly the case of the Minnesota Twins player, Carlos Correa, who, after a tumultuous off-season, allow me the understatement here, wants to give more to help his teammates maintain the leading position in their division. .
From the Twins, to the Giants, to the Mets then back to the Twins
We tend to forget it, because time flies so quickly, but Carlos Correa has signed contracts with three teams this winter. Asked by New York reporters if he regretted not being a member of the Mets on this day, Correa mentioned not living in regret. He reiterated by claiming to be the kind of human being who quickly turns the page on various events in his life, even. If we take him literally, going through heartbreak shouldn't be too difficult for him!
The native of Ponce in Puerto Rico is in no way bitter against the leaders of the Mets, and the Giants by the same token. He does not really follow what is happening on the side of his two teams, if at all. The 28-year-old athlete says he is very happy to live in Minnesota, as does his wife. They find it a great place to raise their family.
The only thing that "makes him sad" is his performance, more specifically at bat. His batting average is below his standards, he hits the fastball less well, his number of walks is down from last year and, for his part, his number of strikeouts is up. A cumulative number of figures that do not lie about the prowess of a player, unfortunately for him. There is reason to wonder if all the distractions of the off-season do not play on his performance?
Would it have made the difference in New York?
It should be remembered that when granting the lucrative 12-year, $315 million contract, Mets owner Steve Cohen claimed that the acquisition of Correa was the last piece missing from his club.
Looking back, maybe Cohen was right, because the Mets aren't going anywhere this season. We don't know and never will, that's how life is.
However, and the Mets, and Correa must recover by the end of the campaign, they definitely have that in common!