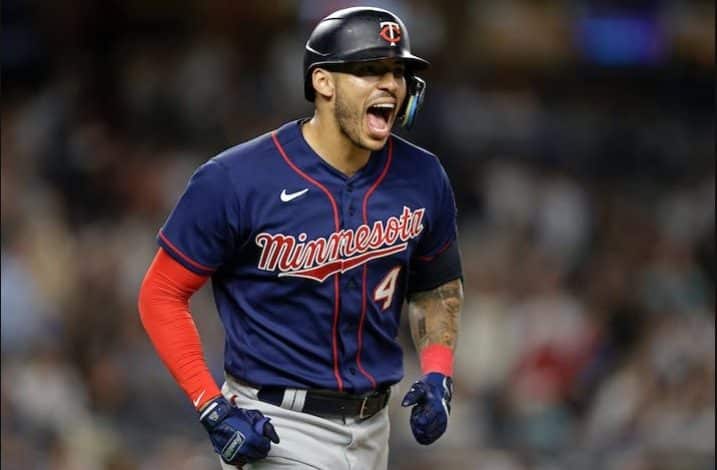 There are only two big-name free agents left among shortstops this year: Dansby Swanson and Carlos Correa.
Recall that Trea Turner signed in Philadelphia and that the Red Sox, because of their ugly offers, had no choice but to let Xander Bogaerts go to San Diego.
Of the lot, Correa is certainly the most renowned name. He cheated in Houston, sure, but he won a World Series and he's got crazy talent.
The Twins loved the ascendancy he had over the club in 2022, his first in Minnesota. This is one of the reasons why the club wants to bring him back.
There are several clubs that will try to stop the Twins from getting there. The Cubs and the Giants are notably of the lot.
And obviously, the Yankees are now in the race. At least, Buster Olney asks to watch them, he who expects a big blow from the Bronx franchise. And he doesn't seem to be the only one with such feelings about the shortstop.
Basically, the Yankees promised Aaron Judge that they were going to build a big club around him. Does it go through Correa?
Does it go through Carlos Rodon?
The Yankees have always wanted to keep the plan to promote a youngster to shortstop, but that could have gone down the drain if the club were ever to drop Aaron Judge. But there, combining the two would be an idea. Will the Yankees be the Yankees again and spend big?
But in fact, this isn't the first time Correa's name has been linked to the Yankees. A few weeks ago, baseball stakeholders already believed in it…
Deserving young people received, as provided for in the collective agreement, a good amount of money.
The Angels wanted Willson Contreras.
Will Bryan Reynolds be traded?
Rafael Devers: when is a long contract?
Brandon Nimmo, Mets captain?