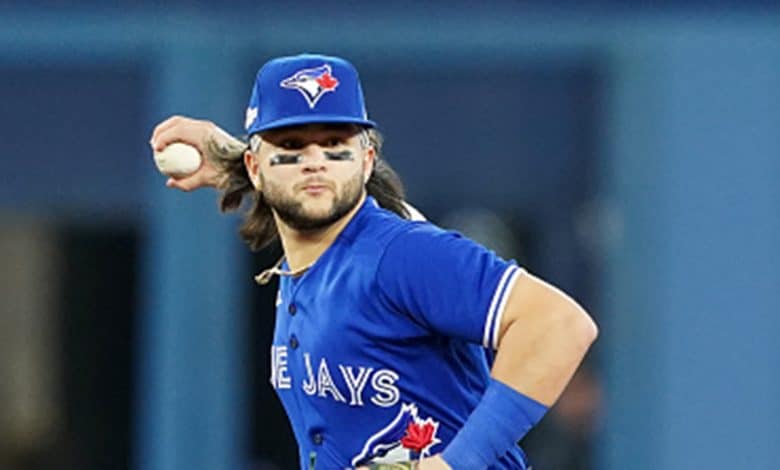 A few weeks ago, Bo Bichette's contract seemed to be a problem for the Toronto Blue Jays organization.
In fact, the problem was not going to arbitration as such. It wasn't ideal, of course, but it wasn't catastrophic either.
The problem was the relationship with the Jays.
Bichette had already complained about the system before being entitled to arbitration. And there, this year, he was the player with the biggest gap in connection with the offer of his team. He was therefore already a recalcitrant.
And there, the Blue Jays and the shortstop player agreed on the terms of a three-year contract. We are talking about a contract that will take him to the gates of autonomy, he who should already be free as air after the 2025 season.
By earning at least $33.6 million, he will do more than many stars have made in three years of arbitration. Whether via three one-year contracts or with two-year contracts in the lot, Bichette is not really to complain about – even taking inflation into account.
Obviously, when we look at the concrete, we realize that the contract means that he will not spend a second longer in town than he should have. If he wants to leave for the 2026 season, he still has the option to do so.
But such a three-year contract lays the foundation for a much larger negotiation: one that will aim to make him a member of the Jays for the very long term.
I have the feeling that such a contract ensures that Bichette's ego will be flattered. After all, he knows he's not Vladimir Guerrero Jr. in the field, but it must reassure him a little to see that he's seen as an important piece of the puzzle.
It's a short-term winner since the Jays have never had a problem with Junior's contracts, which were higher… and they certainly won't have any with Bichette before autonomy.
But as I said, it does not guarantee anything for the future. It lays a good foundation for major negotiations, which is not negligible, but it does not guarantee anything.
From there, Rogers will have to consider whether the club can afford to pay Vladdy AND Bichette in the long run to retain the young core.
The way I see it, Vladimir Guerrero Jr. is going to stay. I don't see a world where the first baseman doesn't get a leading offer.
And the impact of Bichette's three-year contract, in my opinion, is this: If the Jays offer him a nice long-term contract, he'll be in a better position to accept it.
But you still have to get the right offer. Otherwise, he'll go elsewhere, despite your obvious love for the Blue Jays organization and its fans.
The answer to all that in three years, therefore.