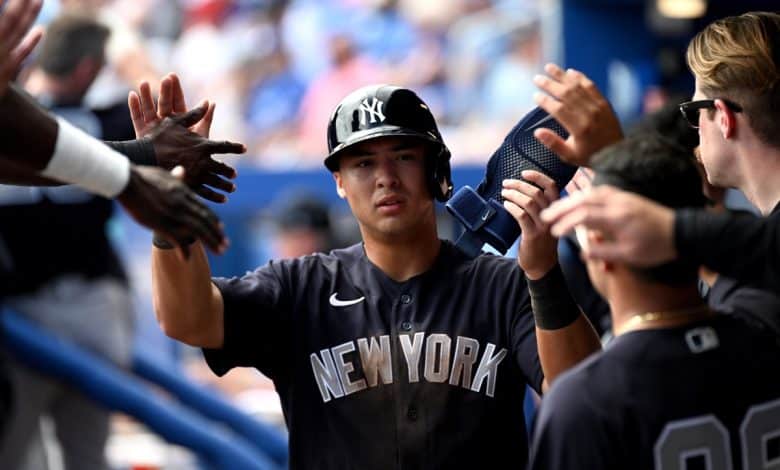 For the past few years, the future of the Yankees has been called Anthony Volpe. The young shortstop, who grew up in New York as a fan of the team, has been the organization's top prospect for the past few years and the HQ has high expectations of him.
Brian Cashman makes no bones about it: he's passed up several big shortstops on the free agency market in recent years because he trusts Volpe.
It's obviously a ton of pressure for the youngster, but it doesn't seem to scare him. He continues to perform and he doesn't seem like a guy too affected by the situation.
In any case, he performs admirably in training camp, hitting the ball with aplomb.
But beyond his performance on the pitch, Volpe stands out because of his attitude and demeanor off the pitch. He is often portrayed as a natural leader and a quiet force.
He is not talked about for his escapades outside the field, for example.
And according to Willie Randolph, a former great Yankees player, the youngster's attitude and work ethic are reminiscent of a certain Derek Jeter.
Obviously, comparisons between Volpe and Jeter are not new since they are easy (Volpe grew up admiring Jeter and he plays in the same position as him), and even if it puts pressure on the shoulders of the young, the fact remains that Randolph has a point.
There seems to be a kind of aura around Volpe which, without being Jeter's, is reminiscent of the one the Yankees legend had when he was in town. Both seem tailor-made to handle the massive New York market, and that helped Jeter a lot.
I hope it will have the same impact on Volpe.
Obviously, a scenario in which Volpe becomes a fraction of Jeter will already be a win for the Yankees, who need a good shortstop in the next few years. Volpe definitely has the potential to become one, but he will need a good shell.
Despite his good side, I don't expect Volpe to start the season with the big club. Certainly, he would probably deserve to be part of it, but Isiah Kiner-Falefa and Oswald Peraza risk sharing the responsibilities at the start of the season.
That said, if Volpe continues to perform at a high level at AAA, he will eventually force the hand of the Yankees, who will have no choice but to recall him. It's only a matter of time before the young shortstop reminiscent of the legendary #2 makes his Yankees debut, if you ask me.