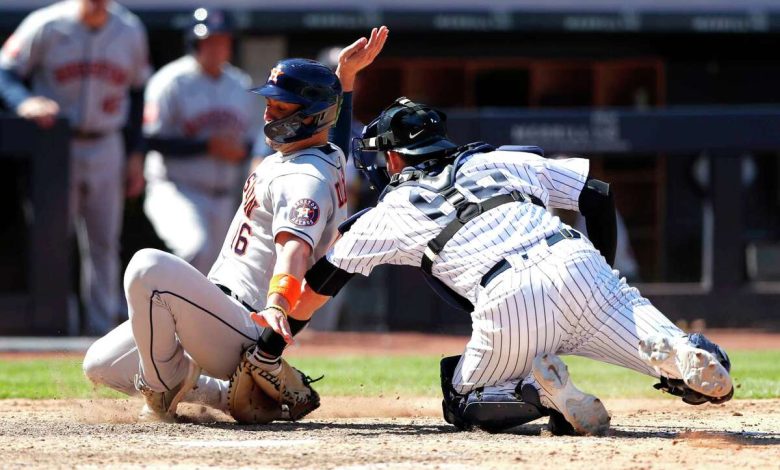 With the National League Championship Series kicking off last night (Tuesday), it's now the American League's turn to begin. And it will pit the New York Yankees against the Houston Astros for the third time since 2017, with Houston winning the first two games.
Can the Yankees turn things around? Or will the Astros continue their momentum of the past few years? Our columnists have played the game of predictions, so without further ado, here are their picks for the next American League representative in the World Series.
Anthony: Yankees in 7. Admittedly, it's probably time for the Yankees to take the next step and they are much better equipped to do so.
Charles-Alexis: Yankees in 6. It's the first time the teams have faced each other in the playoffs since the scandal and the Bombardiers have it wrong again.
Daniel: Yankees in 7. The pitchers will make the difference and the Yankees will emerge victorious.
Felix: Yankees in 7. The third part of the trilogy will see the Yankees defeat the Astros for the first time in a series that will be rich in emotions, but also rich in big performances from Yankees stars.
Maxim: Astros in 5. For a ton of reasons, including rest, because recovery is a key thing in baseball. Also, Dusty Baker is a much better manager than Aaron Boone can be.
Pascal: Astros in 7. The Yankees don't have the pitching staff to match the Astros. This fact will favor Houston in what will be a long series.
Pierre-Olivier: Astros in 5. Cole and Judge will manage to steal a game, but the American's best team will complete the trilogy.
Raphael: Astros in 6. Houston's offensive depth is going to be the deciding factor.
Sebastian B.: Yankees in 7. Revenge is best served cold and it's time to take it out of the fridge. Gerrit Cole will win the ultimate match in front of his former supporters.
Sebastian T.: Astros in 7. A series under the sign of revenge for the Yankees, which looks like a grand final before the hour. The Yankees will have to try to put away the past and avoid overdoing it if they want to finally come to terms with the formidable Astros. It will be tight, but I think the Astros will have the last laugh.
We can therefore expect a long duel where the winner is difficult to predict and where emotions will be at their height. The start of the series will set the tone and performances on the mound will be crucial. See you in the World Series!