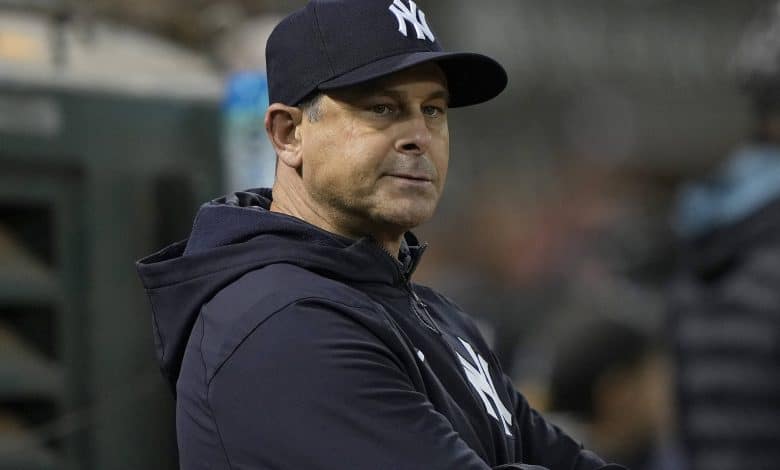 Since his arrival with the New York Yankees, manager Aaron Boone has left no one indifferent, especially because of his often controversial decisions.
From managing the bullpen, forming starting lineups, to choosing to bring Aaron Hicks (yes yes, you read that right) as pinch hitter, Boone is having a tough season despite the excellent performance by his team.
And yesterday's game against the Toronto Blue Jays was no exception. With the winning run posted at second base, in this case Cavan Biggio, the skipper decided to face the dangerous Vladimir Guerrero Jr.
As an explanation after the game, Boone defended himself by saying that the next hitter, Alejandro Kirk, was also a threat. According to him, you had to choose your poison.
Um, ok Aaron… There was still room on the bases for Kirk and the thing to do was to face Matt Chapman. The poison that Chapman represents is far less deadly, and the antidote was in Clarke Schmidt's hand.
All this to say that the manager of the Bronx Bombers will have to be better if the New York formation wants to aspire to great honors.
During the autumn dance, all the decisions, and I mean ALL the decisions, have a capital importance on the outcome of the meetings. We only have to think of certain choices that Kevin Cash and Dave Roberts have made in the past, among others, to realize that it is hanging by a thread.
It is true that the importance of yesterday's game was more significant on the side of the Blue Jays, but it will not be the case in the playoffs. It will no longer be allowed to be "outcoached" by an interim manager as was the case last night in Toronto.
So far, Boone hasn't proven to anyone that he can be the solution to the Yankees' 13-year drought. It will be up to him to turn the tide.