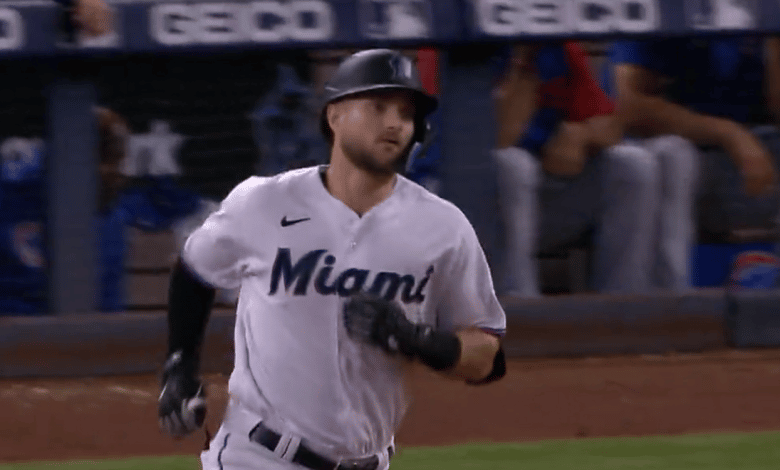 In last night's Miami Marlins game, Charles Leblanc got a rare start at first base against Chicago. So he finds ways to stay in alignment. And sometimes he hits quite high in the lineup.
And yesterday, it worked well since the Quebecer did what a first baseman must typically do: hit the long ball.
In a 10-3 victory for his team, Charles Leblanc hit his fourth homer since his recall. It was a good slap for two points.
He also hit a double in addition to drawing a base on walks and scoring twice. A small evening of work, what.
With 165 innings (20 games) at second base, 109 innings (13 games) at third base and 16 innings (four games) at first base, his manager Don Mattingly can use him whenever he wants.
And when you look at his stats, he has an advantage in doing so.
In 37 games, the Marlins player has 35 hits, 13 runs scored, nine doubles, four home runs, 10 RBIs, six walks and a .285/.323/.455 strike line.
It's excellent for his first steps in major league baseball. Despite the recall of Jordan Groshans (a former first choice of the Blue Jays) at third base, Charles remains in the lineup thanks to his very good performances.
Elsewhere in MLB, Abraham Toro will get more regular playing time going forward as Mariners third baseman Eugenio Suarez is injured. This opens the door to the Quebecer in the Seattle Mariners playoff race.
Note that Otto Lopez was briefly recalled by the Blue Jays recently, but he did not play before returning to the AAA.

Miguel Cairo advances the White Sox.
The Blue Jays are stepping up at the right time.
Tyler Glasnow back this year?
The good Gibby is talking on Twitter.